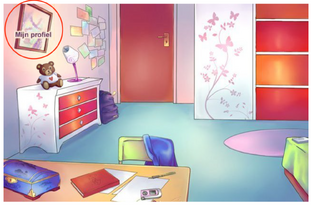 Jouw profiel is een portret op de muur van jouw appartement. Als je er op klikt zal het je naar je Amoris college studenten ID kaart brengen. Daar zullen het volgende verschijnen: Jouw leeftijd (kan je veranderen), Geslacht, Huidige hoofdstuk, aantal afbeeldingen, Hoogste LM met... (Liefdes Meter), Aanmeldings datum, Aantal dagen dat je online bent gekomen en je laatste verbindings dag. Je kan hier ook andere informatie bewerken, zoals dingen wat met je e-mail te maken hebben, sterrenteken, etc. Je kan ook op je volledige Zoetje klikken waar je het volgende kan veranderen: je accessoires, ogen, mond, haar, wenkbrauwen, en kleur (ogen en haar). Daar bij kan je ook je profiel bewerken met meer dingen over jezelf. Bijvoorbeeld: Links, plaatjes, video's... etc.
Ad blocker interference detected!
Wikia is a free-to-use site that makes money from advertising. We have a modified experience for viewers using ad blockers

Wikia is not accessible if you've made further modifications. Remove the custom ad blocker rule(s) and the page will load as expected.