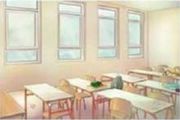 Klaslokaal A is de gewoonlijke plek om dingen te vinden zoals Jade's verloren boekje. Je kunt het vinden aan de linker kant van de hoofdingang. Dit is de eerste kamer dat je binnen kan gaan in het spel (in de demo) en is vaak de plek voor gesprekken.
Karakters die hier gevonden kunnen worden
Het is mogelijk dat ook andere karakters uit het spel hier gevonden kunnen worden.
Ad blocker interference detected!
Wikia is a free-to-use site that makes money from advertising. We have a modified experience for viewers using ad blockers

Wikia is not accessible if you've made further modifications. Remove the custom ad blocker rule(s) and the page will load as expected.