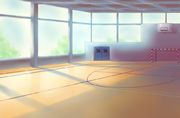 De gymzaal kan je vinden aan de linkerkant van het plein. Als je besluit bij het Basketbal club aan te sluiten, kan je speler het spel "break basket" gratis spelen, maar moeten ze 3 AP betalen om "insect rush" te spelen. Ook als je je bij de Basketbal club aansluit krijg je de kans om Dajan te ontmoeten, maar daarvoor kan je Jade niet meer ontmoeten.
Karakters die hier gevonden kunnen worden
Ad blocker interference detected!
Wikia is a free-to-use site that makes money from advertising. We have a modified experience for viewers using ad blockers

Wikia is not accessible if you've made further modifications. Remove the custom ad blocker rule(s) and the page will load as expected.